About
Australian Premiere
'Theatrical bliss' ★★★★★ – Evening News
In the near future, a little black box will divide us all.
What will be your reality?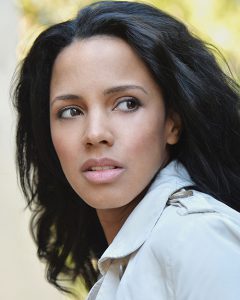 Wildly in love, Polly and Owen have successful careers and feel ready to take on the world, until a new form of wearable technology, equally seductive and dangerous, threatens to destroy it all. This "Black Box" drives a wedge between them. The line between the real and the virtual rapidly dissipates, and as the population begins to rebel, Polly and Owen are forced to question whether their definitions of reality and freedom are the same.
Girl in the Machine is written by Stef Smith (Swallow),  directed by two-time Sydney Theatre Award Nominee Claudia Barrie (Dry Land at KXT, Bengal Tiger at the Baghdad Zoo at the Old Fitz) and stars Logie award winner Brandon McClelland (Sydney Theatre Co's The Present, A Midsummer Night's Dream, Foxtel's Devil's Playground) and Chantelle Jamieson (Peter Rabbit, STC's Still Point Turning: The Catherine McGregor Story).
Gripping, in the manner of Charlie Brooker's Black Mirror, flesh-and-blood humanity is not easily contained. A play about love and being human that entertains our present-day unease about the intrusiveness of technology.
Written by Stef Smith Directed by Claudia Barrie with Brandon McClelland and Chantelle Jamieson.
Mature themes.
Suitable for: Ages 15+. This production contains coarse language and adult content.
'Girl in the Machine holds up a vision of the future that poses vital questions of our time … This is a play that gets in to your head.' ★★★★ – Edinburgh Guide 
DATES & TIMES
Thursday 20 June at 7.45pm PREVIEW
Friday 21 June at 7.45pm PREVIEW
Saturday 22 June at 7.45pm OPENING NIGHT
Tuesday 25 June at 7.45pm
Wednesday 26 June at 7.45pm
Thursday 27 June at 11am and 7.45pm
Friday 28 June at 7.45pm
Saturday 29 June at 2.15pm and 7.45pm
VENUE
Riverside Theatres, Cnr Church and Market Sts Parramatta
Illustration by Aidan Roberts
---