Staging the World participants announced
December 20, 2022
We are delighted to announce the playwrights selected for our inaugural 2023 Staging the World mentorship program. Proudly expanding the company's focus on nurturing the development of new work and BIPOC artists in Western Sydney, Staging the World will give nine Australian playwrights the opportunity to attend an intensive two-week mentorship with one of the world's leading playwrights and Academy Award screenwriter, Tarell Alvin McCraney (Choir Boy, Moonlight), who will be in Sydney in 2023 exclusively for the program.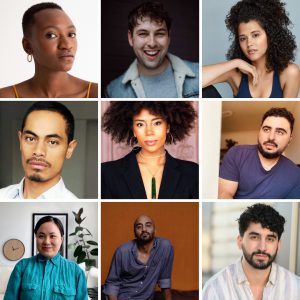 The following playwrights who have been selected for this incredible opportunity:
• Ayeesha Ash
• Challito Browne
• James Elazzi
• Kirsty Marillier
• Moreblessing Maturure
• Jules Orcullo
•. S. Shakthidharan
• Taofia Pelesasa
• Dylan Van Den Berg
NTofP Executive Producer, Joanne Kee said, "The fact that we are kicking off the program with an awe inspiring artist such as Tarell makes me so happy. That he is committed to representation and has made the time from his incredibly busy schedule to be here with us shows me a remarkable and genuine
human. This is the most amazing opportunity to receive mentoring from significant international artists. I am committed to having visible, powerful, positive role models for our artists and the development of craft".
Staging the World's 2023 Mentor, Tarell Alvin McCraney, said, "I am always excited to engage writers and artists in new work. I learn so much about the world and by offering what I know, I gain such insight and hope for the future".
Staging the World is proudly supported by the Girgensohn .Foundation.
Thank you to PHIVE for their support.